Reactie van de neef van de overleden bommenrichter Sgt. T.A. Murphy
Naar aanleiding van onze berichtgeving over de door ECG Air Branch georganiseerde Battlefieldtour, is een bericht gekomen van een neef van één van de overleden bemanningsleden. De neef van Sgt. T.A. Murphy, Russell Murphy, is vanuit Nieuw Zeeland al jarenlang zeer begaan met het lot van zijn oom als crewmember van de neergekomen Stirling nabij Enter. Hij schreef ons:
"Thank you from the Murphy family in New Zealand, (and also of Australia & Ireland). I am a nephew of Sgt.T.A.Murphy 413307 RNZAF (Uncle Terry was our father's older brother). Terry Murphy was a crew member on Stirling BK 604 AA-S, and he now rests with three of his fellow crew, at Wierden General Cemetery. During my research into what happened at Enter in 1943, I was fortunate to find a contact, some years ago, with a fine gentleman from Enter. We made contact with Diederick ten Brinke , and what a blessing that was. Over the years, there has been much exchange of photos & information, and it was through Diederick, that contact was made with Coen Cornelissen (now of ECG Air Branch). So much more news and information became known & also through Coen, new contact with Max Thimmig, the grandson of the German night fighter pilot from 1943. The books written by Coen have been a valuable source of information & I now have a copy of his 1998 book (1 of 3 he has written). So we thank you all, for your help, information, and friendships. You are the links that bind us all together, and your nation can be proud of you all, and your fine work. (I have translated to English, the article about the Sinclair /Henderson visit for our families). We will remember them."

Battlefield Tour for the New Zealand family of P/0 R.W. Henderson R.N.Z.A.F (during 1943)
On Saturday, April 27th 2019, ECG Air Branch was allowed to provide a battlefield tour to the New Zealand family Sinclair. Goal: daughter Geal Sinclair and her husband Peter wanted to follow in the footsteps of her father, who himself had once been shot down as a pilot of a bomber over the east of the Netherlands, and had bailed out with a parachute from his stricken Stirling bomber. To experience a reconstruction, the Sinclairs came to the Netherlands especially for this purpose and our department head and project manager Coen Cornelissen gave them an unforgettable day.
Geal Sinclair is the daughter of N.Z. Pilot Officer Raymond Henderson, 25 years old at that time, and serving with 75 (R.A.F) Sqdn. R.N.Z.A.F. To give you a picture, we take you to a winter evening in 1943, the night from Wednesday 3 to 4 February 1943. The night that the Royal Air Force, Hamburg was aiming and sent a force on its way from 263 bombers. One was the four-engined Short Stirling Mk.I BK604 AA-S with the 30-year-old Pilot Officer John McCullough,(D.F.C), from Christchurch, (the city in New Zealand that, unfortunately, we now know from a different context). And next to him was P/0 Ray Henderson, the co-pilot from Kennington, Southland,New Zealand. Already on the way to Hamburg, it went wrong … At exactly ten minutes past eight high in the air a crackling fire burst the silence. A gleam of light appeared in the darkness, and it slowly descended to the earth, like a raging, uncontrollable fireball. It was a burning plane! The Stirling BK 604 AA-S. Over the Twente landscape, night hunter Hauptmann Wolfgang Thimmig, the "Gruppenkommandeur" (Squadron-Leader) of the III. Gruppe of the Nachtjagdgeschwader 1 waited in his Messerschmitt Bf.110. And at a height of 4200 meters, from a distance of 100 to 50 meters, the night fighter was able to fire the British bomber with exactly 464 shots from the on-board machine guns and 32 grenades from the 2 cm board guns. From under the plexiglass cockpit roof, Thimmig and his radio operator Steckemetz, were able to observe how the opponent started its last death flight …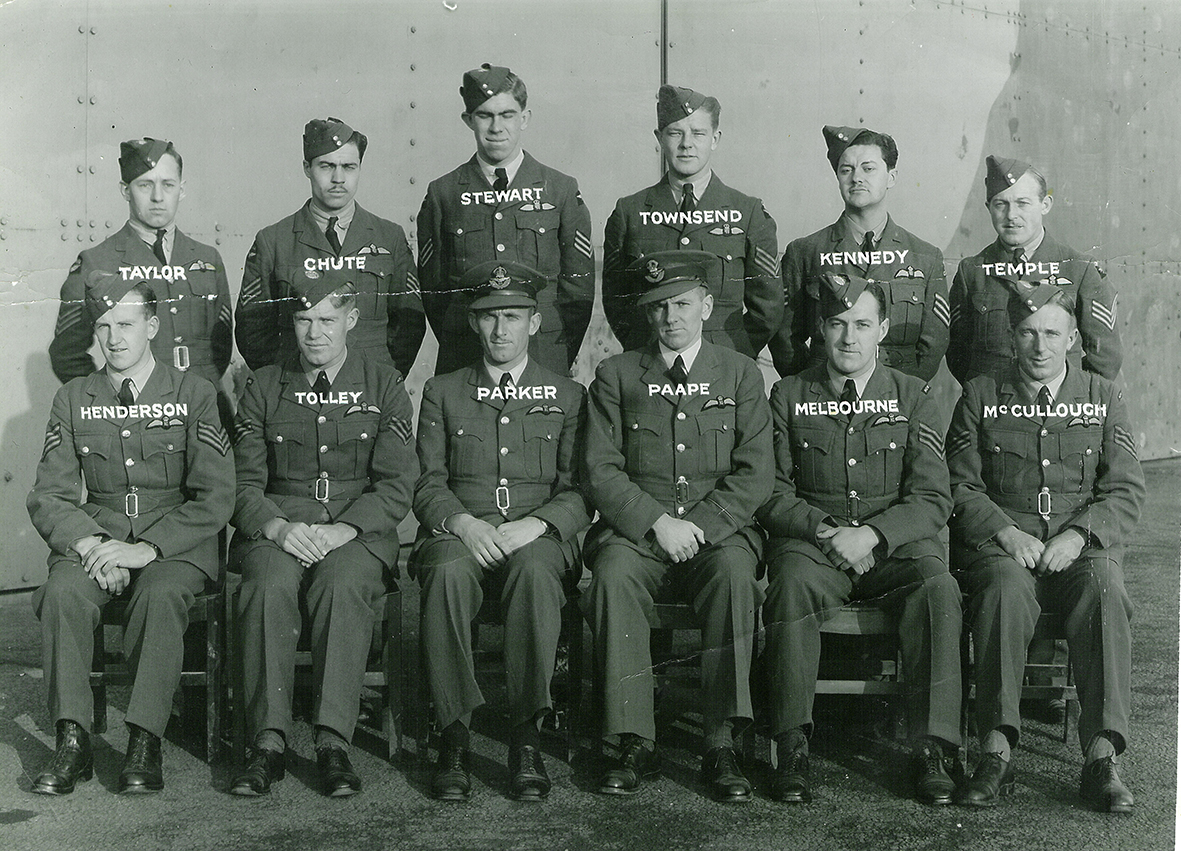 Stirling BK 604 went flying from Borne to Bornerbroek, in a generally northwestern direction. The large bomber then turned westwards towards Enter. To the north of Enter, the burning giant bomber sank southward, and flew spiraling over Enter, and finally exploded in the air above the Goorseweg with a thump. Henderson and Kimberley, a 21-year-old Birmingham gunner, landed safely near Bornebroek. Ray Henderson landed with his parachute in a tree and broke some ribs. To the west, near the Twente canal, landed radio operator Sgt. Smith,(NZ), who broke his leg.
Navigator Gibbes must also have landed there somewhere. With bomber Sgt. Terence A. Murphy from Matamau, New Zealand, it went less well. Murphy still managed to click his parachute on his armor, jumped, but was probably too late and crashed north of Enter, near the neighborhood of Rectum near "Busger op Vollenbroek". The next day, residents were horrified to see how the mortal remains of the unfortunate man stood straight in the ground. He was drilled into the earth, up to his waist, in a meadow… A macabre scene of death and destruction was also visible at the wreck.
One of the unfortunates stood upside down in a pile of wood from the sawmill. His boots had disappeared, and to the great anger of many it was suspected that they had been stolen …
And so four young men, just like that, on a February night in 1943, were killed around Enter Twente.
They were: McCullough the pilot + the 19-year-old radio operator / air gunner Paul Trevayne (UK) + the British flight engineer Sgt. Francis F. Allen, and finally, poor Terence Murphy.
Henderson was found together with Kimberley by a farmer in Bornerbroek. The police were advised, and post commander Arts sent a patrol. Marechaussee P. van Luinen was also called. "An English plane crashed at Enter last night. At our house are two survivors, who will be picked up by the Germans in a moment". Van Luinen immediately jumped on his service bike, and he rode at speed, to tell Officer Arts. There he met both Henderson and Kimberly in Bornebroek. Before the two pilots were brought to Borne, Van Luinen quickly took two snapshots of the pair. Then they went to Borne's town hall and finally, the Germans came and took the Allies prisoners, and removed them.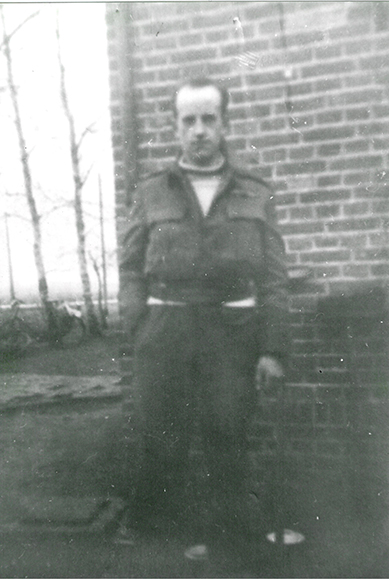 We have already provided many tours, and guided family group tours, for the Stirling BK 604 AA-S. For example to Max Thimmig, grandson of the successful German night fighter. (24 Allied Planes) Also to the Trevayne family (Peter + Karen Trevayne), who come to the Netherlands every year. [ Peter Trevayne, brother of Sgt. Paul Rodney Trevayne, has visited each year, since 1950]
Recently Diederick ten Brinke from Enter, who has specialized in the events and history surrounding this crash, was able to lead the Kimberly family, and there are also close and warm
contacts with Russell Murphy, the nephew of the killed bomb aimer, Sgt.Terrence Murphy (NZ) Today our department head and project manager of ECG Air Branch Coen Cornelissen,
on behalf of Explosive Clearance Group, provided a tour of all the places where it all happened at the time. (3rd February 1943) Geal and Peter Sinclair were accompanied by the Van Luinen brothers. Two sons of the old Mareschaussee, who has himself, now already died. They too were curious about what their father had experienced that night. Coen Cornelissen was greatly assisted on this day, by Diederick ten Brinke. A lunch in Borne, organized by Explosive Clearance Group, calmed the emotions a bit. Via Borne, Bornerbroek, the crash site in Enter on the Goorseweg, the location where Murphy ended his parachute jump so fatally. Then all went to the cemetery on the Appelhofstraat in Wierden. And so an emotional day ended in dignity, and in silence, at the graves of a bunch of young guys, who once, long ago – but so close – gave their lives for a great good. Our freedom! We will remember them.
[Translation of: ECG Air Branch provides Battlefield tour to New Zeeland pilot's family / 28/04/2019, translated by Russell Murphy]