Rush job in Twente
At the edge of Lonnekerberg near Twenthe airfield, a landowner intended to carry out extensive groundwork on his plot. The wish was to install a drainage system at a depth of 1.5 metres. In view of the location of the plot near Twenthe airfield, the owner contacted the safety officer of the municipality of Enschede.
The municipality acted immediately by involving ECG to carry out the explosives investigation. The job was under pressure, given the time of year and the owner's planning to install drainage, plough and sow the land. As a result, ECG had a maximum of 10 days to prepare the work, detect and approach 6 hectares of land and secure any ammunition found.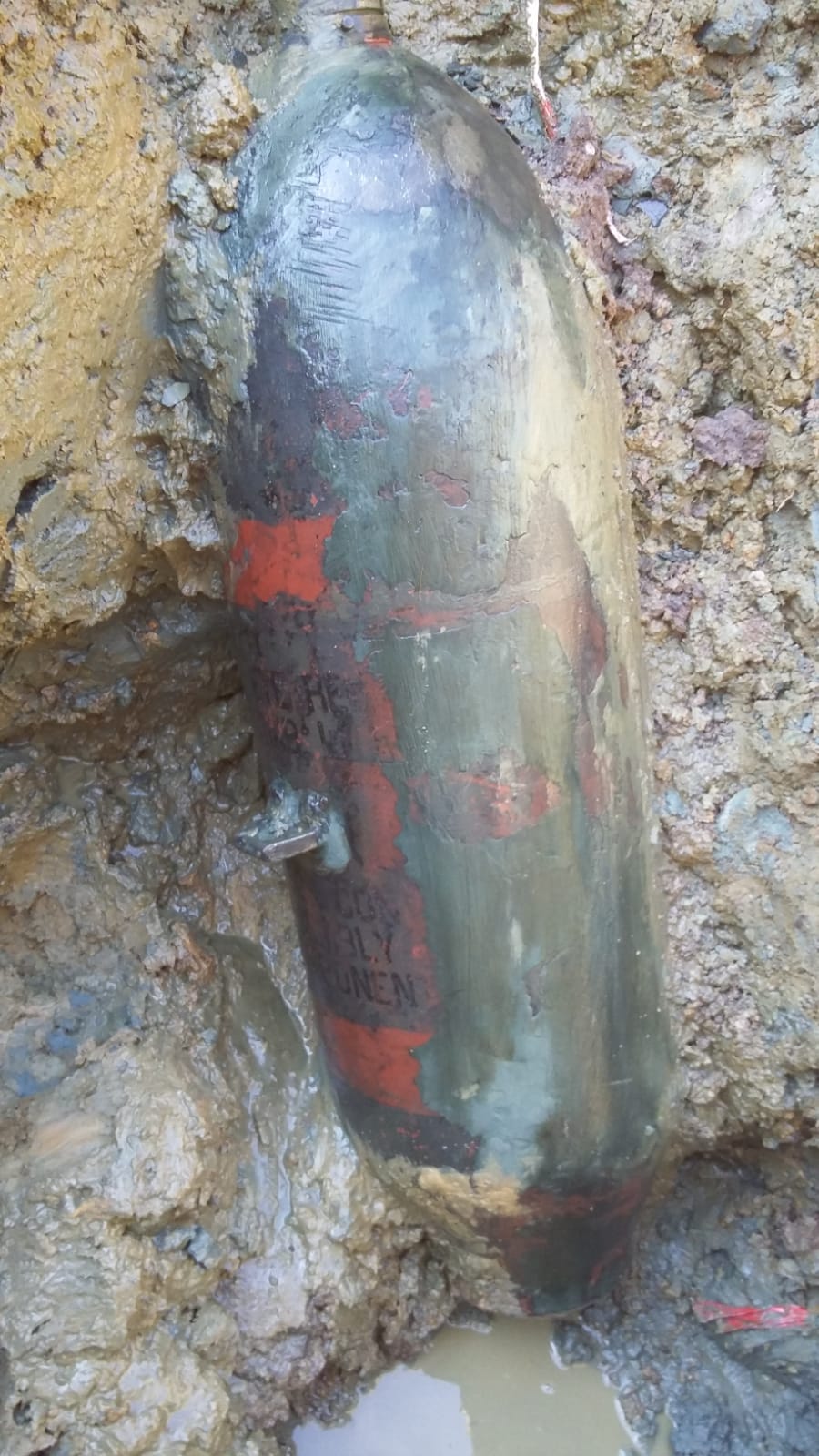 Within 5 working days, the OCE experts of ECG had finished the job. Because a large number of aerial bombs were dropped during a bombardment in August 1944, the area was suspected of containing projectile ammunition. That the label 'suspicious area' was not unjustified was proven by the finds. For example, an American 250 lb brisant bomb and a French brisant grenade from a 60 mm mortar were secured. The aerial bomb was found at a depth of almost 4 metres and appeared to be exceptionally well preserved due to the clay soil. The sprayed letters and markings were clearly legible and the detonators (nose and tail tube) shiny. After the explosives had been reported and checked by the EODD, the plot could be handed over. As a result, the owner could start the planned work in a safe and responsible manner, well within the expected time.
ECG did everything it could to comply with the wishes of the municipality and the landowner to detect and approach the relevant plots quickly, after which the owner was able to install his drainage system and plant maize on the plots. In this way, ECG was able to scale up the project by going from 1 approach team to 2 teams and, due to the cancellation of another project, they could start a day earlier. As the municipality, we were very pleased with the communication with us and the surrounding area and the fast approach to this project. We also very much appreciated the fact that the ECG employees informed the surrounding area about the results of the approach', says Mr M.C. de Jong, Senior Technical and Information Advisor Soil, Water, Explosives & Geology at the municipality of Enschede.